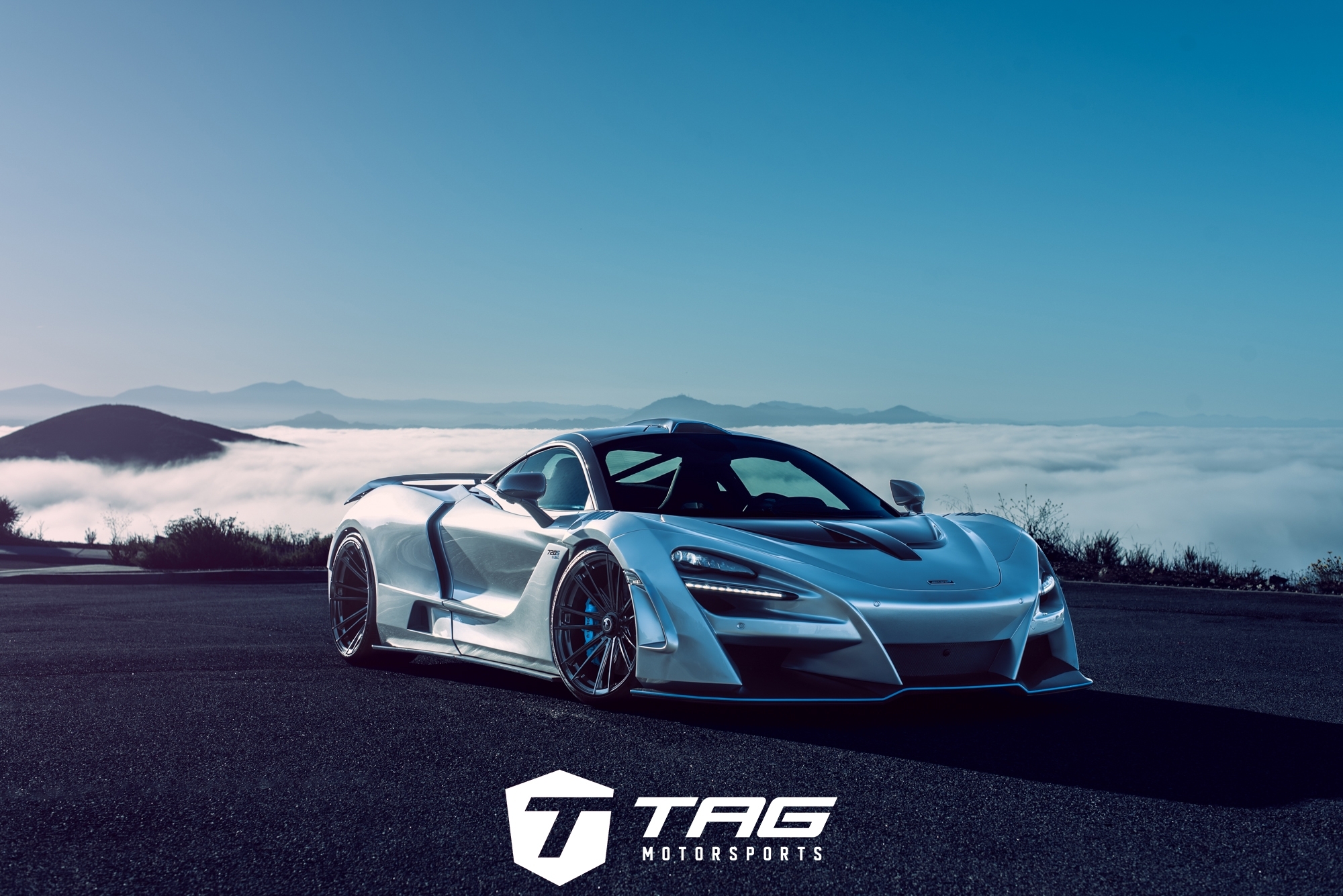 Being one of the largest Novitec Dealers in the world, we have been a part of several N-Largo projects before, and the pure beauty and extreme nature of a project like this brought the itch to build another. This example is 1 of 4 (And the 2nd of 3 we are building) 720S N-Largos that will be built in the U.S. out of the 15 around the world. A conversion of this magnitude takes precision in planning, attention to detail, and fine-tuning an already fine-tuned piece of engineering. This is why we built this project completely in house to oversee the quality of fit and finish on all pieces and tuning. This includes painting, installation, and performance tuning. We pride ourselves on knowing the in's and outs of extreme projects such as Novitec's N-Largo conversions through our previous experiences and builds. Our experience would pay off on this project, along with Novitec's experience in making a properly designed conversion with excellent craftsmanship, fit, and functional engineering.
This team Loansharks build belongs to a client who already has a pretty extensive collection of Novitec N-Largo conversions, with his 488 and F12. There aren't many of these so 2 N-Largos could be considered extensive by this measure. You can definitely consider 3 N-Largos, extensive! Upon hearing about plans of this conversion being released, he was anxious to secure a conversion for his incoming MSO touched 720s! The donor car was a Supernova Silver 2019 720S and delivered with only 100 miles on the clock. By the way, SuperNova Silver is an MSO color that you might have seen before on the iconic Mercedes Mclaren SLR! Three pallets of goodies from our German Friends at Novitec were received and we started to carefully take apart the vehicle for observation and conversion preparation. Looking under the bare skin of the Mclaren we got a chance to appreciate the engineering put into this car and see how well the Novitec conversion mated with the factory's ingenuity. All of Novitec's N-LARGO kits are wind tunnel engineered and tested. That means FUNCTIONAL AERO! Nothing is overlooked. All factory pieces were properly documented, bagged, and stored to go back to the owner in brand new condition. You can check out videos we made documenting some of the processes on this build to get more insight on the process.
After disassembling the Mclaren, we had space to test fit all the Novitec pieces and make any notes on adjustments we needed to make as well as check tolerances in clearance for after paint is applied. Speaking of paint, the painting process with Mclaren is an amazing process as we learned. Their detail into documenting their paint is amazing, and it takes a lot of work and resources to match it. But we would settle for nothing less and were able to secure an exact match for the paint through our world-class paint system. All pieces were properly fitted, tested, prepped for paint, then handed off to our painting department. The Novitec front fascia, hood, widened front fenders (additional 6cm) side skirts, rear complete widened quarter panels (additional 13cm), were all sent to our in-house paint department. The rear valence, roof air scoop, rear wing extension, and mirrors were all left in there carbon fiber finished and were wrapped in xpel clear bra for protection. We also took some time to add a Fistral Blue center stripe on the steering wheel.
While the Mclaren was disassembled and parts in the paint booth, we had the opportunity to install the N-Largo tuning parts. The engine received the Novitec N-TRONIC control unit which is plug and play. We also installed the Novitec Inconel RACE Exhaust with Catless downpipes that complete the Novitec Performance Stage 3 for the Mclaren 720S. This results in a power output of 791HP and 637 FT/LBS of torque and a healthy increase of 81HP and 70 FT/LBS of torque over factory configuration. Now, this is a RELIABLE power upgrade, which allows our clients to take the car, across the country, with no worries, fears, headaches of issues. Next, we installed the Novitec sport springs which allow the height to be lowered 35mm and perfectly compliments the ride height with the new aggressive skin.
In paint, it was decided to add some nice little touches of MSO Fistral Blue that complemented the interior. We were on the fence at first, about how this would come out. But it came out perfect! Once we received all pieces back from the paint department, we properly fitted the pieces and double, triple checked the tolerances. Thanks to Novitec designing their kit to be used with all of McLaren's original factory mounting points the fitment was flawless. They do an amazing job of building their kits to and/or above factory standards. After all body parts were installed, it was time for the final ingredients. The most important final piece was the proper wheels to complement the new stronger body. Novitec worked with Vossen Wheels to design a wheel that would have the most epic concavity, while still being up Novitec's standards in strength and craftsmanship. Novitec MC2 Forged 20x9 fronts and 21x12 rears are fitted with Michelin Pilot Sport 4S performance tires in 255/30 ZR 20 and 325/25 ZR 21 sizes and finished in polished midnight smoke. The rear wheel's forgings were specially designed for the vehicle and are the deepest in the world. This gives the 720 N-Largo a stunning presence when set on the ground.
To finish it up, we added some special touches throughout the car including painted badges, custom made 720s N-largo Interior Branding, and wrapped the car in a total Xpel stealth satin clear bra over much of the factory MSO SLR silver Paint leaving the carbon fiber bits and roof exposed in gloss carbon, Taking this car from bad to straight menacing!
Well, how does all this play out in the real world? Wow! Novitec took this car to another level. Acceleration is mind-blowing* (even more so than factory), the audible experience is insane, the car commands a presence on the road that very few vehicles could claim, and still can be driven on the street like the factory 720s for daily duties, cars, and coffee and such. Take it on the track or a strip and watch it performance and the functional widebody aero go to work! We are in love with this 720 N-Largo and look forward to the next few we being built in the bay. WHAT A BEAST!