AWE Tuning Exhaust for the S3 is HERE! We are excited to announce the launch of the newest system from AWE and we will be taking orders and inquires immediately! Contact us for details.

* SwitchPath™ Exhaust technology offers the perfect combination of Track and Touring Editions
* Available as the valved SwitchPath™ Exhaust or the lower priced Track Edition
* Engineered, designed, and manufactured in-house at AWE Tuning
* 200 Cell High Flow EURO 6 Compliant HJS Catalyst
* 3" CNC mandrel bent system
* Performance Downpipe available as Resonated or Non-Resonated
* Max gains of 17 hp and 23 ft-lbs of torque at the crank
* Available with 90mm or 102mm double walled adjustable tips, Chrome Silver or Diamond Black
* Hand crafted from T304 stainless steel
* No Check Engine Light – Guarantee>
* Perfect Fitment – Guaranteed
* Featuring the AWE Tuning Lifetime Exhaust Warranty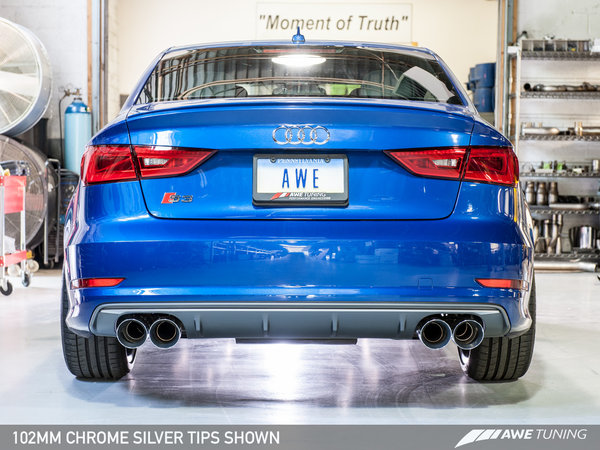 To further hone the tone and performance of your S3, we're offering both resonated and non-resonated downpipes as well. Both versions feature our No Check Engine Light Guarantee, Fitment Guarantee, a unique flex-pipe section to isolate engine movement, and offer our Lifetime Warranty on the downpipe (one year on the catalyst).
Resonated Downpipe: Slightly louder than the stock S3 downpipe. Featuring our No CEL Guarantee (even without software) and a sophisticated and distinguished tone.
Non-Resonated: Removes the resonator for a more aggressive note, much louder than the stock downpipe. Featuring our No CEL Guarantee (even without software) and a pronounced note.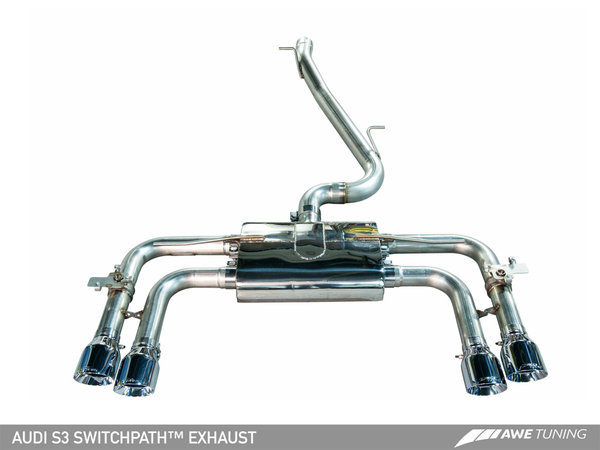 Both the SwitchPath™ Exhaust and the Track Edition Exhaust are available with downpipes as a package for savings. Not sure if you want the downpipes yet? No worries. You have one year from the purchase date of your exhaust to add downpipes at the package price.