Happy New Year! It's 2018 and with a new year, we know it's a great time for some new updates to our TAG S5 Sportback. We decided to bring in the new year with some new goodies that include wheels (as expected), but even some new parts from a new product line we will be working with in 2018 that many of you may know about.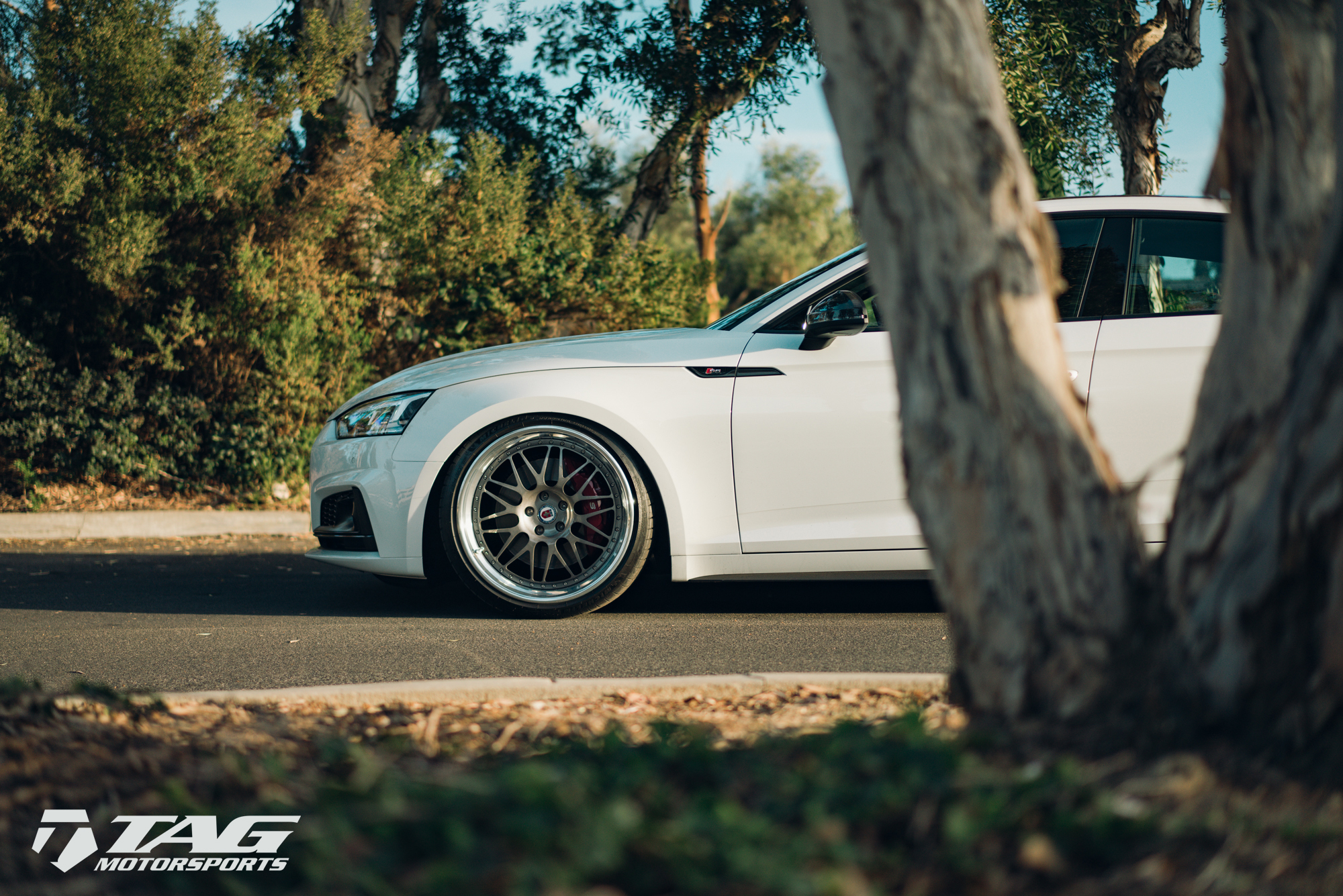 To start we got some new shoes on our Sportback. Being that HRE is bringing back their retro 540 styles with either a Step Lip or Straight lip, we thought it would be a good opportunity to see what an old school mesh look would look like on a new school car. Simple wins once again. The HRE's centers were finished in HRE's Stone Finish, with Tinted clear - and a polished/clear outer staggered step lip, with a 20x10.5 dimension all around for a perfect fitment. Once we wrapped them in Michelin PS4S tires, we dug into our suspension for some fine-tuning of some new products.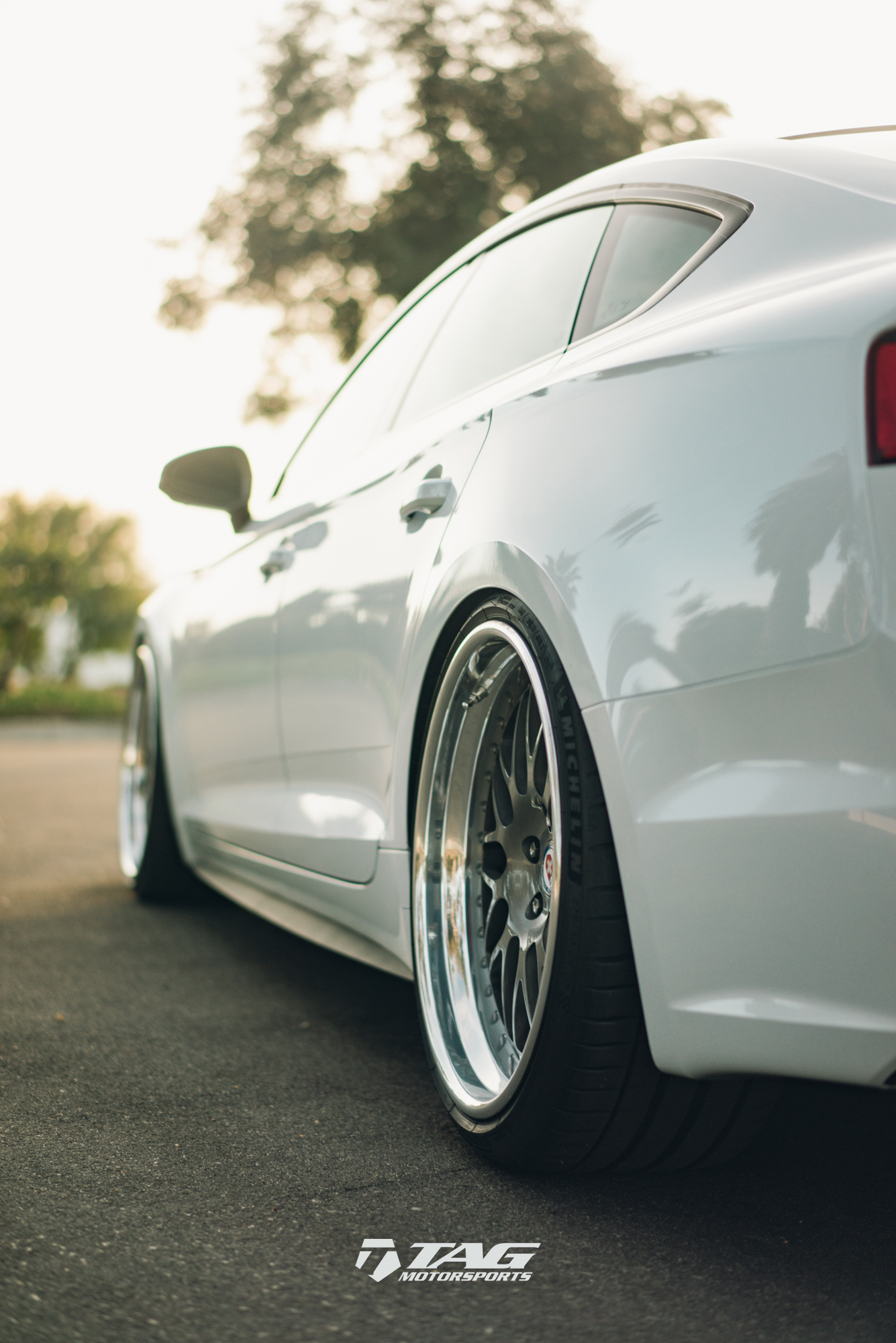 First, we start with the KW V3. Many of you are familiar with the KW brand, and many may have experienced the Variant 3 in their previous vehicles. But there isn't much info out there about the V3 on our B9's. They released the kit about 3 months ago and being that our car was equipped with the sport diff and adaptive suspension, we were a bit weary to get rid of the adaptive suspension due to possible errors and headaches. Well - we are happy to report there are ZERO issues with the error code eliminators which is a MAJOR PLUS! We went ahead and dialed the suspension in and set the compression and rebound in the settings KW recommends out of the box. After a bit of driving we ended up dialing the rebound 1 click black and it was firm but very very sporty. The beauty of this is that the compression and rebound should be set at KW's default settings and you go +/- from there, to get your personal optimal feel! And the drop…. It was aggressive and good. This is about as low as you can get the rear on these coilovers and to me, it rides great and handles…. Well - well get into that in a minute…..

With such a stout and capable coil-over system, we knew it was a good idea to enhance other areas of the suspension as well. This is where our newest and most exciting partnership comes into play…. 034 Motorsport. For the TAG Twins B9 Build we went with their complete line of suspension components including Dynamic+ Solid Front and Rear Sway Bars, Billet Transmission Mount Insert, Billet Rear Subframe Mount Insert Kit, and Billet Strut Tower Brace. At first we are always weary of trying new products but after spending months and months with the Team at 034 and seeing the quality & fitment of the products, we are happy to be part of the 034 Program. Each Part is built with such great quality, including the front transmission mount insert which replaced the factory rubber one. You can really feel the power and drivetrain shifts a lot crisper which is a nice touch. The rear 034 Motorsport subframe mounts are optimized by filling sloppy OEM voids, while not adding unsavory NVH. These inserts only function under load, unlike some poly-urethane competitors that pre-load bushing, resulting in added NVH, even at idle. This now allowed for the rear of the car to feel so much more precise, and with the sways and front strut tower brace, the car just feels planted….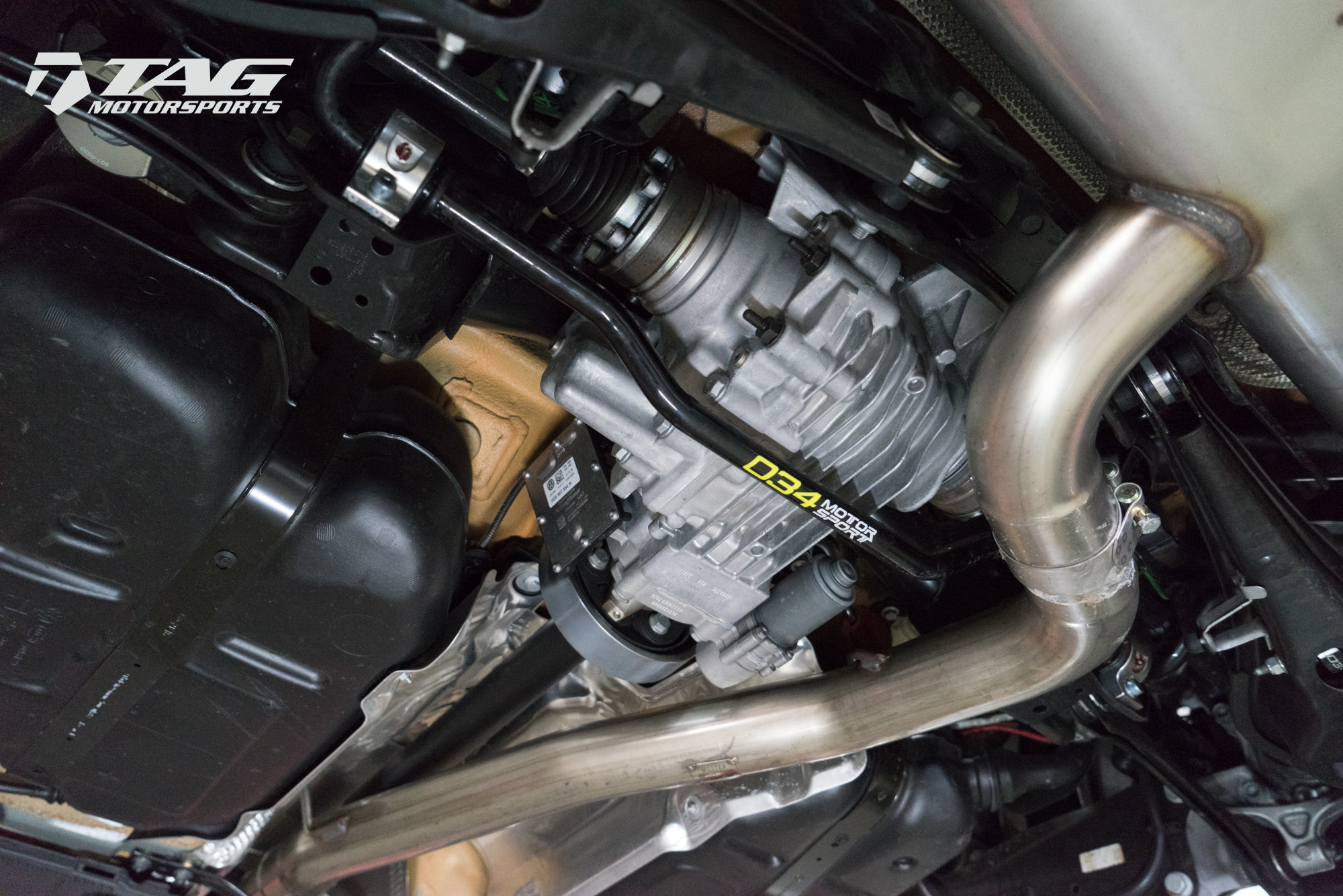 Put this all together with a precision alignment, and what does it mean? Honestly - driving the car, it feels so much sporty, I find myself taking an onramp and canyons with so much more confidence. It feels like a sports car rather than a 4 door long sedan. Even though we removed some rubber bushings in the suspension, it doesn't feel too stiff which makes taking the wifey out to dinner much easier. And even with how low we have our car set, the front end really doesn't scrape much at all.

We at TAG have a philosophy that we own these cars for you all to come, see, touch feel and drive the cars. We do our best to keep the cars in the warehouse at all times so if anyone wants to come and feel or see the products in person - we encourage that, or if you want to chat with one of our sales representatives that has had some ample seat time in the vehicles before we ship the products to you anywhere in the world - you know how to get ahold of us!

2018 Audi S5 Sportback
-20x10.5 HRE 540 in Stone Finish w/Tinted Clear
-275/30/20 Michelin PS4S Tires
-AWE Non-Resonated Touring Exhaust
-KW V3 Coil-Over Suspension
-Neidfaktor Carbon Steering Wheel Upgrade
-Neidfaktor Carbon Shift Knob Upgrade
-TAG Motorsports Black-Out Package in Dark Chrome Gloss
-OEM Black Optics Front Grill & Fog Lights
-OEM Black Optics Rear Diffusor
-OEM Carbon Fiber Mirror Upgrade
-OEM Carbon Fiber Rear Spoiler
-OEM European Headlights (E-Code)
-034 Motorsport Dynamic+ Solid Front Sway Bar
-034 Motorsport Dynamic+ Solid Rear Sway Bar
-034 Motorsport Drive Train Mount
-034 Motorsport Strut Tower Bar