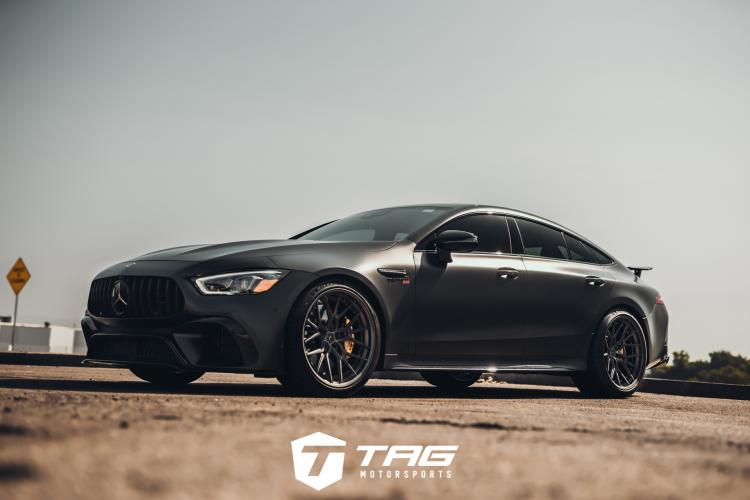 The Mercedes AMG house is one of the best factory performance and tuning programs in the industry. Since the 80's they have put out automobiles that are basically German hot rod's in sound, numbers, and rubber laid down. The AMG GT63 was no different. A German hot rod with 4 doors, lots of room, and beautiful styling. But often we feel that is never enough, and this customer agrees. 
First, we started with some essential but simple modifications, by addressing the stance of this animal before we transformed it into a beast. Vossens forged MX-3 wheels were chosen for their 3 piece design and finished in polished Midnight Smoke. This finish flawlessly blends in with the factory Edition 1 paint finish. To make the wheels feel at home we installed a Renntech Lowering Module to control the height while keeping the characteristics of the factory-tuned air suspension intact. To complete the exterior we installed some finishing touches in the form of our TAG blackout package which paints the emblems on the car to fit the overall darker trim and bring a more aggressive look. 
Now it is time to turn this animal into a BEAST. Entering stage left is Brabus. And they brought 800 wild horses with them. The 800hp Powerkit upgrade was applied to this vehicle. This creates 800hp and brings 0-60 performance to sub 3-second levels at 2.9 seconds. It is now understood why Brabus dubs this a "Supercar" after such an upgrade. What does an upgrade like this consist of? Glad you asked. Twin Brabus special turbochargers with larger compressor units and modified core assemblies with reinforced axial bearings do they heavy lifting of the HP and Torque increase. With a little engine management, the beast is well managed. For any more questions on the experience it delivers, just contact us. It is hard to type in words, but we will try our best. 
Now, this client has 2 grocery getters, family haulers with Brabus 800hp upgrades (yes, a G63 with power!). Talk about goals!
For more info on Brabus or Vossen products, as well as options for your AMG GT, feel free to contact us!
2020 Mercedes AMG GT63 Edition1
-21" Vossen MX-3 3-Piece Wheels in Polished Midnight Smoke Face & Lip
-Brabus 800HP Powerkit Upgrade
-Renntech Lowering Module
-TAG Motorsports Black-Out Package
-XPEL Clear Bra Paint Protection