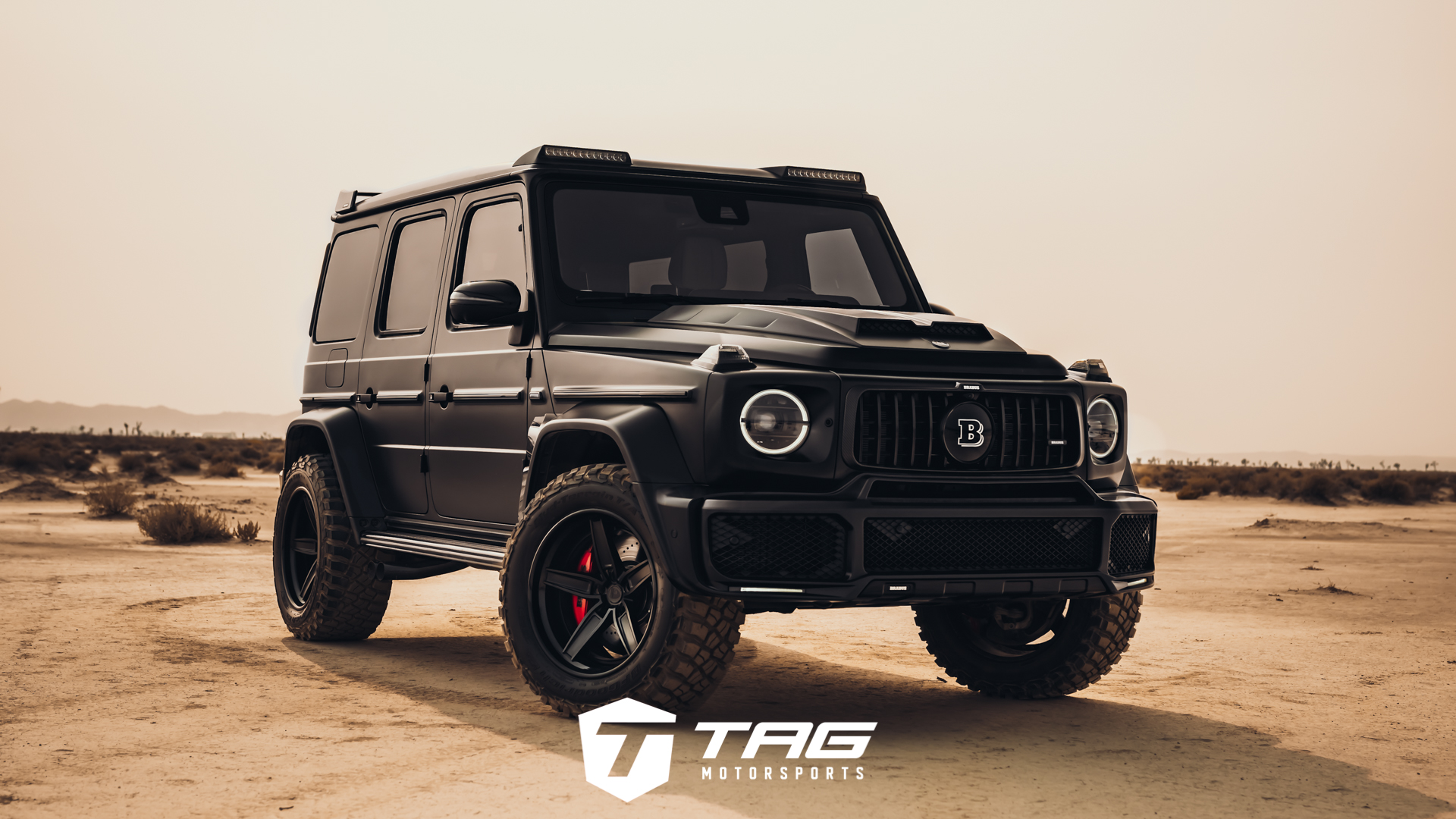 Brabus and AMG.
Let's talk about two iconic names in automotive history, and both tied to Mercedes Benz. Since the G-Wagon - which was developed for military use in Iran - became available for civilians, it has become one of the most iconic SUVs ever made. Since Brabus was founded in 1977, it has become one of the most recognized tuners in the world, building some of the most powerful, and aggressive luxury vehicles for over 40 years. 
Now put these together, and you have a recipe for something epic. Most people would be very happy with a factory AMG G63 version of the G-Wagon. Then, most people who would like to modify their Mercedes would be very happy with some wheels, and maybe an exhaust. But then, there are the people who…. Well, they aren't the majority. They want the extreme. This is for them. 
We had a mission assigned to us, and it was to beef up this G63. Welcome to the TAG Motorsports Bootcamp. Brabus North America was contacted to whip this G63 into a powerful shape, and the big guns, the full monty, and even the kitchen sink was requested for this build. No it wasn't installed, but you get the point. A Brabus complete G63 Widestar Aero Kit is the meat and bones of this conversion with all the supplements to transform one's horse and carriage into a monster. Epic name, which it lives up to by adding 4" of width to the G63's stance. Per side. This provides space for the very grown wheel and tire set-up. Remind us to get back to that in a second. 
The Brabus Aero package comes with so many amazing pieces it is hard to talk about them all, but we will cover the really cool stuff unique to this kind of kit. First, when you step up and open the door their integrated LEDs illuminate the running boards between the flares as soon as a door handle is pulled or the central locking system is activated via Keyless Go. The BRABUS logos in the fender attachments behind the front flares light up at the same time. This is extremely cool at night or in the garage! The Brabus name on the front grille lights up as well in a subtle blue hue. Other key parts are the Carbon Fiber Hood, Roof Lights, Spare Tire Delete plate, and Front Grille Surround. Very high quality carbon fiber we might add. 
On the interior we finished it off with Brabus shift paddles in black, aluminum door lock pins, and an aluminum pedal set. 
Okay, now let's talk performance. Don't worry, leg day was not avoided on this athlete of a vehicle. To give it more legs, we started with opening up the breathing. A Brabus Valved Exhaust and Blow Off Valve Kit was installed to let it flow better and give it some bark. The bark that comes before it's bite in the way of a Brabus 700HP Engine Powerkit. NEVER SKIP LEG DAY! You guessed it, this G63 can now squat to the tune of 700 Horsepower and has 100 more lbs/torque to help accomplish whatever needs to be accomplished. 
Now, since you reminded us, the wheel and tires that can handle all of this is very important. You need a sturdy platform when you are powerlifting. Let's discuss. 20x11 ANRKY AN35 Forged wheels were built for this project and finished in a Satin Black face, Gloss Black lip combo. But, the tire set up took things over the top. The 305/55 BFG set-up required some engineering by our team to fit. This is not for the faint of heart, but it works. We made it work! And it was worth it. It just took some clever re-organizing skills. The finishing touch was our TAG custom painted brake calipers with the Brabus Logo. 
Fully transformed we turned a gentle machine into a gentle giant. Luxury and comfort has not been lost, however, it is not one to be messed with on the street, dirt road, mountain, sand dunes, parking lot, gas station, freeway...well you get the point. ANYWHERE! 
2020 Mercedes G63 Brabus
-Brabus G63 Widestar Aero Kit
-Brabus Matte Carbon Hood Kit
-Brabus Matte Carbon Roof Lights
-Brabus Matte Carbon Spare Tire Delete Kit
-Brabus Matte Carbon Front Grille Surround
-Brabus Rear Roof Spoiler
-Brabus B Logo for Front Grill
-Brabus Illuminated Radiator Grill Logo
-Brabus RED logos on Side
-Brabus 700HP Engine Powerkit
-Brabus Valved Exhaust in Black
-Brabus Blow Off Valve Kit
-Brabus Interior Shift Paddles in Black
-Brabus Aluminum door lock pins
-Brabus Aluminum Pedal Set
-Brabus Suspension Lift Kit
-20x11 ANRKY AN35 Wheels in Satin Black face, Gloss Black Lip
-305/55/20 BFG K03 M/T Tires
-TAG Custom Front Suspension/Fender Package to Clear Wider Wheel Package
-TAG Motorsports Blackout Package
-TAG Motorsports Painted Red Calipers with Brabus Logo
-Complete vehicle Satin XPEL Clear Bra