A TAG MOTORSPORTS ROAD RALLY SPECIAL EVENT
POWERED BY TARGA TROPHY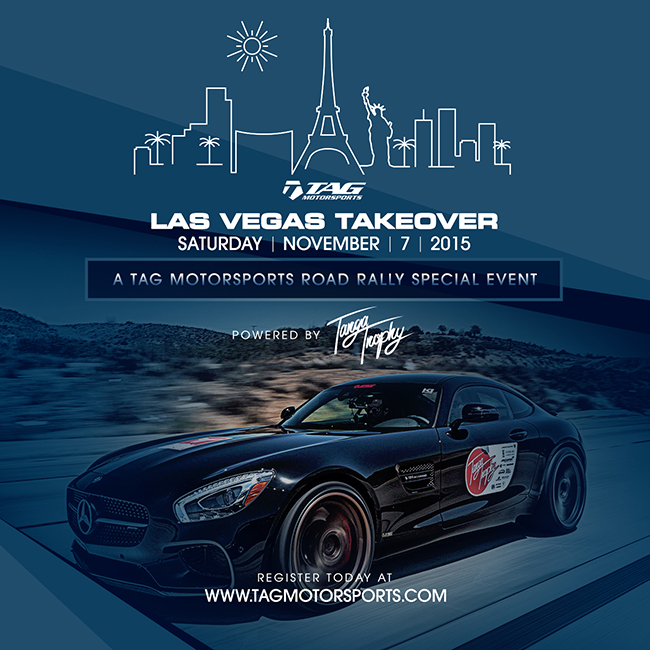 Vehicles
Limited 25 super sports car field comprised of TAG Motorsports built vehicles, customers and friends in an exclusive Targa Trophy Triple Crown format event.
Triple Crown Road Rally format powered by Targa Trophy
A throwback to the 2010 Targa Trophy Las Vegas Triple Crown event with some new and improved bells and whistles. The 2010 event was part of the historic Targa Trophy Triple Crown series of events and the Sin City round proved to be one of the best of all time with one of the most EPIC routes in Targa Trophy history.
PLEASE NOTE: THIS IS NOT TARGA TROPHY LA 2 VEGAS - THIS IS A START & FINISH IN LAS VEGAS TAG MOTORSPORTS SPECIAL EVENT
Checkpoint Stops
Undisclosed stops in & around Bay Area
Host Hotel + Event Start & Finish
Bellagio Las Vegas
Entry Fee
$975 + $25 svc charge
$725 + $25 svc charge (no hotel room)
Entry fee covers 2 people (driver and navigator) & includes:
Hotel room Saturday night (11/7) at Las Vegas Hotel TBA
2 TAG Sin City Takeover Special Edition Event T-Shirts
2 TAG Sin City Takeover Event Gift Bags
TAG Sin City Takeover Event Vehicle Sticker Kit
VIP Breakfast for Driver & Navigator
VIP Dinner, finale reception, awards for Driver & Navigator
VIP Afterparty Sin City style
The TAG Team will be heading up to Las Vegas early as this at the conclusion of the SEMA show. For those of you interested in joining us early in Las Vegas to attend SEMA show or just to hang out, please let us know!