The only 991 Turbo and Turbo S exhaust that's fit for the AWE Tuning brand.
For Turbo and Turbo S
Peak Gains: + 29 hp / + 32 ft-lb at the crank with RSR Style Tips
Peak Gains: + 20 hp / + 20 ft-lb at the crank with OE and Quad Tip Systems
German-made 200 cell HJS HD metal-core catalysts
No CEL. Guaranteed.
3.0" mandrel-bent tubing with H-Pipe crossover for optimal performance
T-304 Stainless Steel Tubing
Direct bolt-on
Included gaskets & hardware
Engineered, designed and manufactured in house at AWE Tuning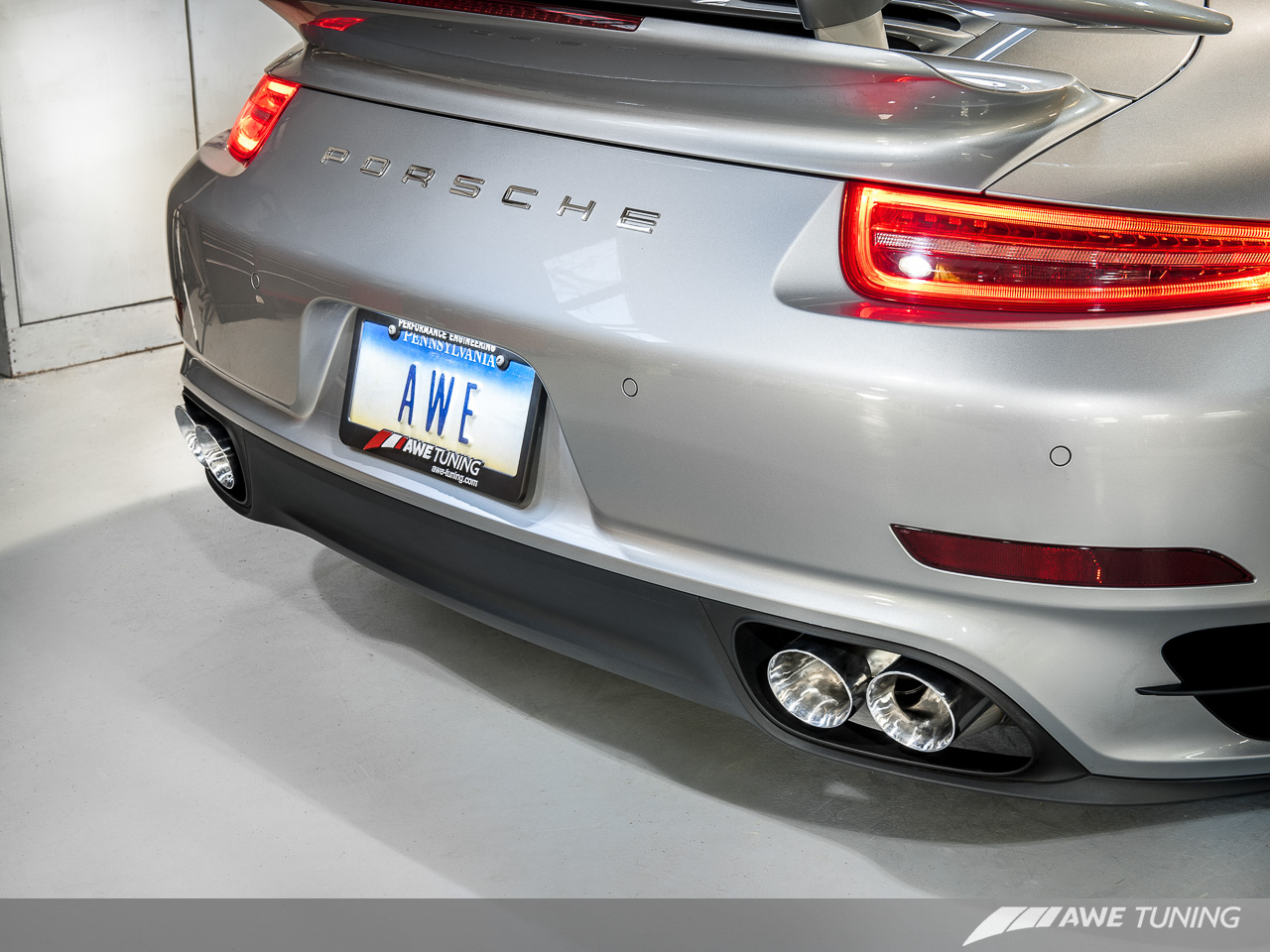 Three 991 Turbo/Turbo S options:
RSR Style Tips: This tip option provides the most power, as it carries the 3" tubing straight through to the end. Available in AWE Tuning Diamond Black or Chrome Silver finishes. Tested and proven under extreme conditions.

Quad Outlet Tips: Also available in AWE Tuning Diamond Black or Chrome Silver finishes.

Retaining stock tips: Not ready for the tips? Not a problem. The AWE Tuning Porsche 991 Turbo and Turbo S Performance Exhaust Systems are compatible with factory tips, for those who want to keep the aesthetics under wraps.
One system. Many talents.

Producing an exhaust system that is both aggressive at full throttle yet civil enough for bluetooth calls is no small endeavor. AWE Tuning sound engineers carefully studied the tones of the multiple prototype 991 systems at various RPMs, and meticulously engineered a bespoke 991 Turbo / Turbo S solution (as opposed to a repurposed 997.2TT system) to combat frequencies that are not appropriate for a supercar of this caliber – retaining and building upon only the perfect notes.

Premium German made 200 cell HJS HD metal core catalysts guarantee Check Engine Light free operation, 3.0" diameter tubing and the AWE Tuning muffler design routes exhaust through two proprietary and hand-crafted mufflers, while an H Pipe design helps ensure the perfect note.

Each TIG weld is hand finished internally, and gas purge welded. Flange openings are size matched to their ports, all to produce the smoothest flow possible.

The result is an exhaust system that unlocks the 3.8L twin-turbo powerplant in both performance and sound, in a way that no other can.

Important notes:
Please note that due to the use of high flow catalytic converters, this exhaust is legal only for off road usage.